Hainanese Chicken Rice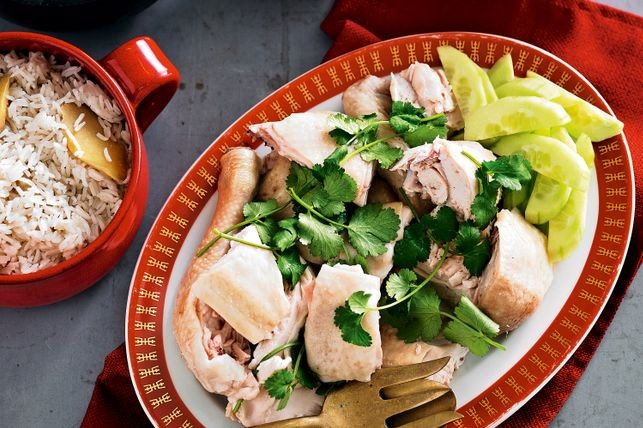 Preparation time: 30 minutes
Cooking time: 20 minutes
Ingredients
4 pandan leaves, (see note) bruised, tied in a knot (optional)
3 teaspoons salt
1.2kg whole chicken, rinsed, patted dry
5cm piece ginger, thickly sliced
3 spring onions
2 teaspoons sesame oil
1 telegraph cucumber
Coriander sprigs, to serve
3 spring onions, finely chopped
1 tablespoon finely grated ginger
80ml (1/3 cup) vegetable oil

5 long red chillies, roughly chopped
1 clove garlic, roughly chopped
2 teaspoons grated ginger
2 teaspoons caster sugar
1 lime, juiced
1 tablespoon vegetable oil
1 clove garlic, crushed
2cm piece ginger, thinly sliced
400g (2 cups) white rice

Guide
METHOD
Step 1
Bring 2L (8 cups) water to the boil in a large saucepan over high heat. Add pandan leaves and 1 teaspoon salt.
Step 2
Rub remaining salt all over chicken. Stuff ginger and onions into cavity.
Step 3
Lower chicken, breast-side down, into saucepan to completely submerge. Cover with a tight-fitting lid, reduce heat to very low (see note) and cook chicken for 45 minutes. Remove pan from heat and stand for 1 hour, covered (chicken will continue to cook in residual heat).
Step 4
Meanwhile, to make spring onion and ginger dipping sauce, combine spring onions and ginger in a heatproof bowl. Place oil in a small saucepan over medium heat and cook for 3 minutes or until hot and smoking. Carefully pour hot oil over spring onion mixture and stir to combine well. Set aside to cool. Makes 160ml (2/3 cup).
Step 5
To make chilli dipping sauce, process all ingredients in a food processor to a smooth paste. Alternatively, use a mortar and pestle. Set aside. Makes 80ml.
Step 6
Carefully remove chicken and reserve broth. Plunge chicken into a large bowl of iced water and leave for 5 minutes to cool. Remove and drain well. Pat dry with paper towel, then brush lightly all over with sesame oil. Loosely cover and set aside. Strain broth, discarding any solids. Set aside.
Step 7
To make fragrant rice, heat oil in a large saucepan over medium heat. Add garlic, ginger and rice, and cook, stirring, for 2 minutes or until rice is glossy and ginger is fragrant. Add 750ml (3 cups) reserved broth, stir to combine, then bring to a simmer. Cover with a tight-fitting lid, reduce heat to low and cook for 15 minutes or until liquid is absorbed. Remove pan from heat and stand, covered, for 10 minutes or until rice is tender. Place remaining broth in a saucepan and bring to a simmer over low heat.
Step 8
Meanwhile, remove ginger and onions from chicken cavity and discard. Using a cleaver, cut chicken down either side of backbone, then remove and discard. Cut remaining chicken into 12 pieces and place on a platter.
Step 9
Peel cucumber, then halve it lengthwise, thinly slice and place on platter. Divide hot broth among 4 bowls. Scatter coriander sprigs over chicken, then serve with broth, fragrant rice and both dipping sauces.
Recipe